Chris Vermeulen
I am the Founder and Chief Technical Analyst of TheGoldAndOilGuy.com. Started trading in 2000 and have extensive experience trading stocks, indices, ETFs, CFDs and Futures. My next-generation trading style has been thoroughly refined over the years, blending the best of all that has come before with the cutting-edge approaches that have only been possible with modern advances in systems and diverse technologies. This is the ideal combination of both the old and new school investing techniques which I built from the ground up.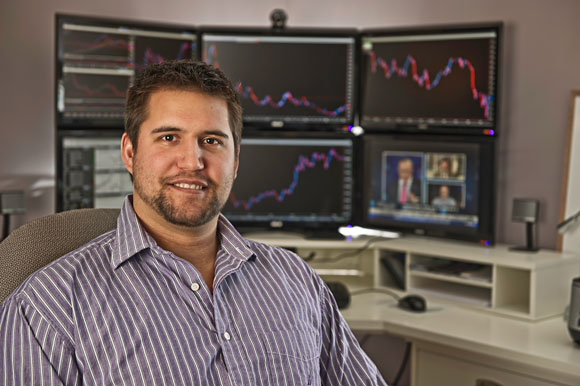 It is this blend of the time-tested and innovatively new that allows me to take advantage of bull, bear and flat markets regardless of how each week plays out. I've repeatedly observed that one of the biggest keys to making a lot of money in challenging markets involves aiming for big, quick moves, while maintaining an extraordinary focus on minimizing risk. This may be what most distinguishes what I provide vs. the experiences delivered by the vast majority of other newsletters.
More simply, I hate to lose on any trade, so I've evolved my own models with an emphasis on yielding a superior win ratio, without having to be too conservative on the types of trades I'll take. Many of my competitors tout crazy high profit potentials, but they seem to employ models that deliver crazy high loss realities for their subscribers. How they stay in business, I don't understand. What I do understand is that subscribers must see bottom line results which means they must be learning how to read the markets and/or pulling more money out of the market on a regular basis. While at a quick glance my strategy does not look real exciting, remember I post real numbers/results that members and myself have achieved. So I think it's my consistency in providing educational market research and winning investment ideas that moves them to offer such glowing praise.
My company- Technical Traders Ltd.- has thoroughly established a stellar reputation as a provider of lower risk solutions for subscribers seeking accurate market research and investment ideas without the roller coaster ride. You've probably seen me on many of the websites and publications as I share many of my thoughts publicly. I'm proud of the fact that so many find what I have to offer so valuable. My goals are simple: to provide my subscribers with novice-friendly analysis, my very best cherry-picked investment ideas & outstanding investment education.
The market is something I literally think about every waking hour. My life's work is to not only out-perform the market each year but to also make some real money. I share the fruits of all that labor with my subscribers, always striving to deliver value well beyond my subscription fee. There is no other business more intriguing, exciting or potentially more profitable than being involved in the financial markets! And I believe my thoroughly proven investing strategies are as straightforward and simple as they can get. Join me and I'll work extraordinarily hard toward helping you grow as a trader while realizing opportunities and profits beyond your expectations.
Listen to a recent interview with Chris Vermeulen.
Chris Vermeulen
CEO & Founder, Technical Traders Ltd.