Good afternoon,
I just wanted to touch base before the week comes to an end.
Overall I think it was a fantastic week in terms of providing real-time analysis that unfolded exactly as out analysis predicted a with Fed news and employment numbers. This was an extremely difficult week to trade and was coasted through it and made money without breaking a sweat – well those tho watch my videos that is…
The cycle analysis I share with you is something I have learned and been working on for over 15 years and I'm still trying to improve on it. As you can see it got our money positioned perfectly in the SP500 a few weeks back, and more recently this gold trade. We got positioned, the market moved and we locked in money within the first 48 hours. I know, based on all the emails I get and how everyone words them that most traders shorted gold, bought dust weeks ago and just kept holding onto the positions praying for the market to drop. That was a wild ride both for your capital P/L statement and your emotions. All that can be avoided (in most cases) if you understand cycles or know where the market is in terms of these key cycles that I provide you with.
The less time your money is in the market the better. I would much rather make a 5.6% profit in 48 hours than hold onto an ETF for 2+ weeks to make that same amount.
Here is a quick summary this week's performance and this morning Spike targets being hit yet again!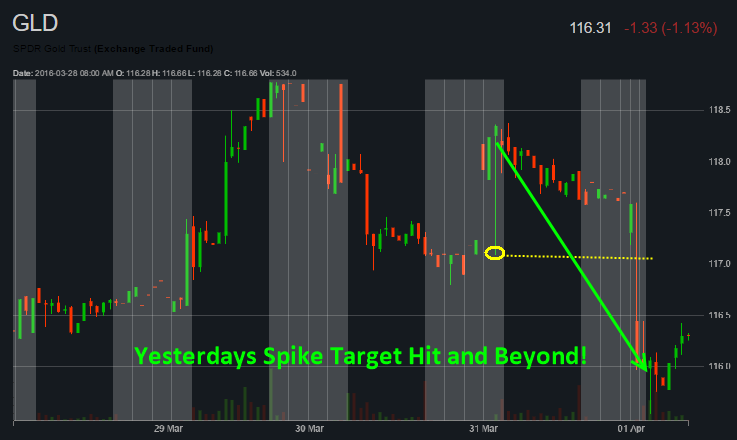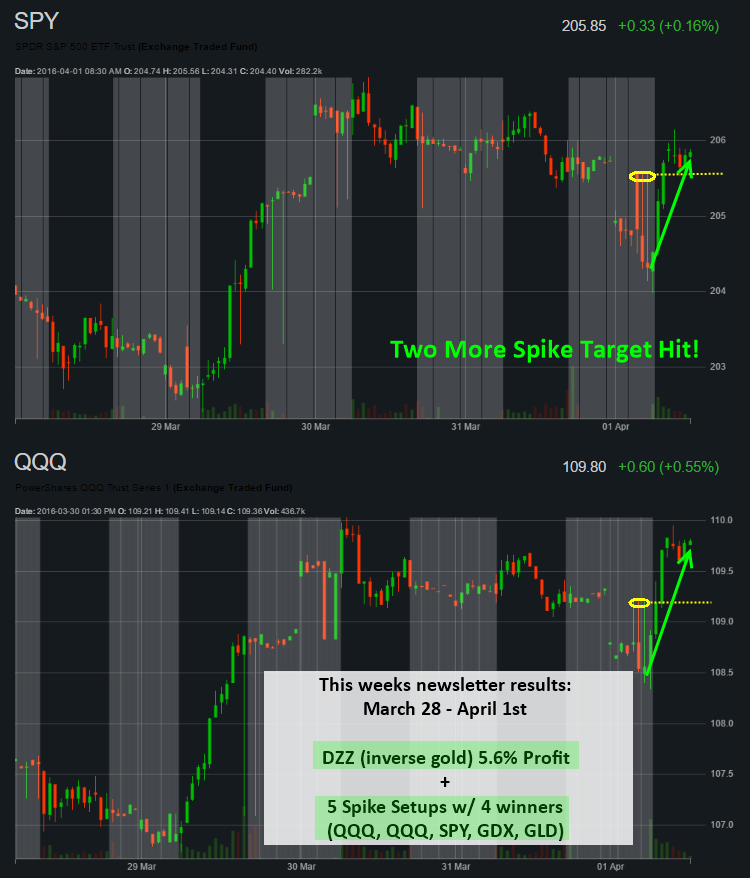 Anyways, thank you all for the kind words and for everyone cutting back on sending me emails.
Chris Vermeulen
https://www.thegoldandoilguy.com/wp-content/uploads/2016/04/download-1.jpg
188
268
admin
http://www.thegoldandoilguy.com/wp-content/uploads/2014/11/tgaoglogo.png
admin
2016-04-01 13:38:49
2016-04-01 13:38:49
Two More Spike Targets - Three Winners Today!