The "Golden Trading Vehicle" that
has nearly 100% accuracy
This Little-Known Trading Service Features
Uncanny Accuracy…Consistent Profits…
and a sharp FOCUS on trades
with Less than 3% Risk!
Dear Investor,
Simply put…it's the most accurate trading vehicle I've ever seen.
It has an accuracy of almost 100% -- and as a result, one small group of investors has quietly been using this vehicle to make some remarkably consistent short-term trading profits.
I've written this letter to explain to you exactly how this laser-like trading vehicle works – and just how easy it is to put it to work for you…starting today.
And I'll also tell you about something I call "golden rockets" – a powerful group of stocks that carry explosive profit potential.
I'll explain it all – and tell you how you can claim your stake in a portfolio that has recently closed short-term winners of 24%...37%...52%...and even 66% -- and has averaged annual returns of 36% over the past four years.
But before I go any further – let's just cut right to the chase.
You must be asking yourself…is this "Golden" Trading Strategy right for you?
I can determine the answer to that with just three simple questions…
Are you an active trader looking to make money in the markets?
Are you comfortable with an approach that maximizes gains…while at the same time minimizes your risk?
Are you ready to get started?
Then let's go…

A Simple, Direct Approach to Short-Term
Trading Profits…with Low Risk!
It's very easy for traders – especially new traders – to lose their focus.
With so many trading models, programs and disciplines available…it's easy to become overwhelmed by it all. And, of course, it's also very easy to get swept up in the promise of lightning-fast, triple-digit returns.
But let's face it…the only way to consistently make money as a trader is to keep your eyes on the prize. That means focusing on strategies that are profitable in the current market conditions…and avoiding long losing streaks.
Here's what I mean…
For the last seven years – in both good markets and bad – I've been able to consistently beat the returns of the S&P 500 by focusing on some very specific sector ETFs (exchange traded funds)…and exercising strict discipline when it comes to risk.
For those of you who are new to this – an Exchange Traded Fund, or ETF, is a type of fund that allows you to track a specific sector, exchange or industry…and – unlike a mutual fund – an ETF can be traded the same as an individual stock.


"I always considered myself quite fearless until I started to trade. I got use to being stopped out. So many of my trades would go against me, filling a lower gap. With this membership, I have really learned to curve my panic reactions. I embrace the dips now and see them as buying opportunities. Nice to be on the winning side for a change. I feel so lucky to have chosen your services."

Claudia Frers, DK
Revealed: This "Golden" Trading Vehicle
is the Most Accurate of its Kind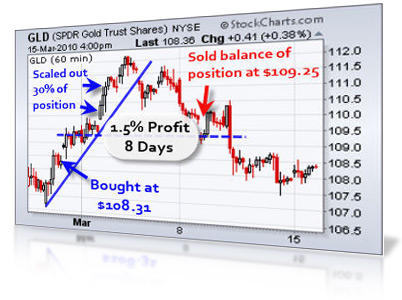 Over the last 5 years, I've refined my strategy to focus on one golden trading vehicle which has an almost 100% accuracy.
GLD is an Exchange Traded Fund that is designed to trade at a share price equal to 1/10th the price of gold…and the fund owns a large quantity of gold bullion.
And simply put…this fund is the most accurate trading vehicle I've ever seen.
Since December 4, 2009 my service has issued six different trading alerts involving GLD…and not a single one has lost money.
Now don't get me wrong – I also cover many other exchange traded funds…and I'll tell you more about just how my remarkably accurate trading service works in a moment.
The long and short of it, though, is simple:
My one-of-a-kind trading service offers individual traders – just like you – consistent, accurate and profitable trading alerts.
My alerts are much different than all other services out there. I provide all the detailed information on which prices to buy, sell, where to put protective stops, price targets to scaling out of positions on strength and the percentage of my portfolio which is going into each trade.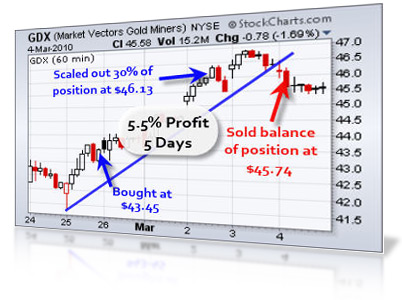 Some of my readers examine each of my trades with a microscope and use my service as a "Master's Education" in the art of low-risk, short-term trading.
Others, however, enjoy the simplicity of the service. They do nothing more than act on my easy-to-follow advice…and then count their winnings.
And – I don't mean to brag – but those folks have done quite well…
* In 2006, my portfolio returned 32%...
* In 2007, my portfolio returned 36%...
* In 2008, I avoided the entire market collapse…and produced 11% returns in the face of a devastating bear…
* And in 2009, my portfolio delivered 68% returns.
Now I'm inviting you to join an elite group of investors following this simple, low-risk strategy that uses quick-hitting trades to take advantage of short-term opportunities in the gold and oil markets.
Let me explain…
Why Gold and Oil – and Why You Should
Be Careful Whose Advice You Follow
Before I say anymore…I should introduce myself.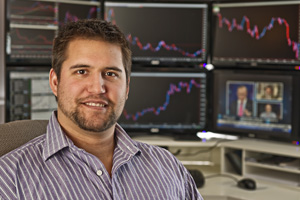 My name is Chris Vermeulen – and I'm the owner and editor of a trading service called TheGoldandOilGuy.com.
I've been fascinated with the markets since cracking open my first book on trading commodities at the age of 16. Within two years, I had opened my own trading account – focusing on trading stocks and commodities at first before eventually expanding into currencies and exchange traded funds.
Back in 2003 – after sharing my gold analysis with fellow traders and financial advisors – I decided to launch TheGoldandOilGuy.com…and I haven't looked back since.
I'm proud of the foundation of consistent, safe profits my service is built upon – and I'll match my track record against any trader in the market today.
Which brings me to another important point…
No question about it – gold and oil are red-hot right now.
As of this writing, gold has recently traded for over $1,200 an ounce – and the price of gold has doubled twice since the beginning of 2002.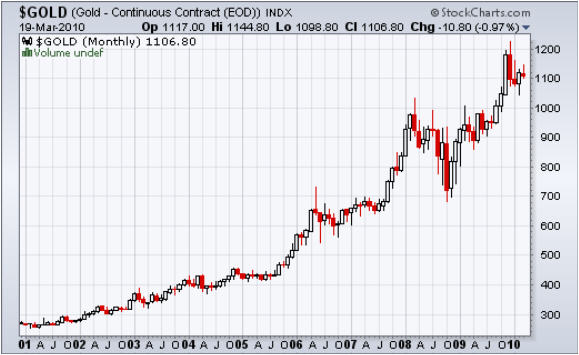 Oil prices, of course, are down from their 2008 highs, but still – at more than $80 per barrel – nearly four times as high as the price just eight years ago.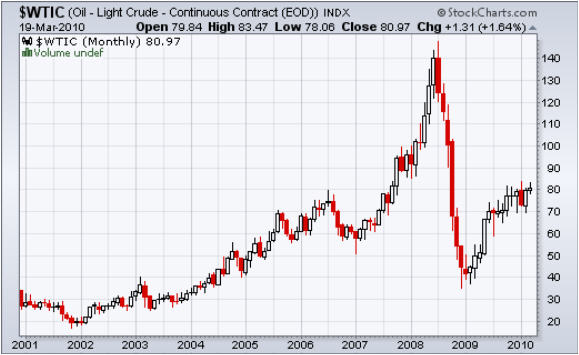 Those enormous spikes in two of the world's most sought-after commodities have made fortunes for some investors.
But such a climate also produces an unwelcome danger.
There are literally hundreds of advisers out there – right now – selling some very dangerous trading advice on the internet.
I've seen recommendations for complex options trades – or some very foolish junior mining stocks – that have the potential to wipe out good-intentioned investors who aren't careful.
It doesn't have to be that way.
You don't have to chase inflated profits derived from a service or trading system that also delivers an insane amount of risk.
My service is built on a conservative, proven approach. I pay close attention to risk with each trade recommendation.
How close?
I adhere a strict Maximum 3% Risk Trading Rule: I will not enter a trade that has more than 3% risk unless I am trading a leveraged fund which doubles or triple the risk but also the returns.
I advise my readers to enter a position ONLY when we have a low risk setup, and exit on a technical breakdown of some type – a trend line, support or resistance level or high volume reversal candle. If the risk is more than 3%...it's best not to enter the trade.
This simple money management rule can help you avoid getting whipsawed out of a position…and help prevent you from suffering devastating short-term losses.
But don't just take my word for it. Here's what some of my readers have to say about my highly successful, low-risk approach…
"I most appreciate your focus on finding low risk entry points while not missing big moves."
- Radu, USA

"I want to thank you. I've made money with your signals and I appreciate all the effort you put into helping people make and protect their money."

-- Lori Norden, USA

"Chris, First, I admire your discipline... great job. Second, your updates are hugely valuable to me when I get ready to jump into higher risk trades."

-- Mike N. North Carolina

"I am trading with confidence for the first time in my life. Your words about the VIX, low risk trades, curbing the need to be in the market too much, and this morning's musings, about jumping in too quick only to see a loss in a few minutes, all have been so helpful… Since I have subscribed to your (TheGoldandOilGuy.com) service, I have had 11 trades, 8 of which were good winners, only 3 losers, and the losses were minimal due to your email alerts. Again thanks very much."
-- Leon Watson, Arkansas
Like I said…I'm very proud of the fact that my service – TheGoldandOilGuy.com – helps investors avoid taking unnecessary risks.
But I also need to say…
Don't Get Me Wrong – Low Risk
Does Not Mean "Tiny" Profits
Not even close.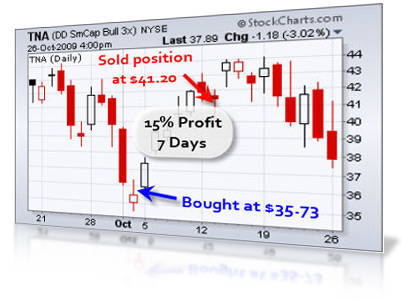 You don't compile an average annual return of 36% over the last four years without cashing in on some outstanding returns.
And readers of my TheGoldandOilGuy.com service have done just that, with winners like…
* Two-month returns of 24% from an oil rocket play last fall…
* Multiple fast-moving double-digit gains from trades of GLD over the past 12 months…
* 67% profits – again, in just two months – from a Latin American resource investment...
* And quick-hitting 52% gain from a little-known gold mining stock.
If you have been reading my free trading and trading educational reports which I post on various websites each week then you know – I'm not really one to brag about the returns I provide for my readers like the rest of the industry.
Rather I just provide my trading analysis in a simple down-to-earth format and those who like my work and profit from my free reports end up becoming paid newsletter subscribers.
But I feel obligated to point out my strong returns because – to many people – think the words "low risk" automatically translate into "not enough profits."
Nothing could be further from the truth.
Again – don't listen to what I have to say about this subject…listen to the people who have actually taken advantage of my advice:
"Made an Extra $3,200"
I reversed positions on your alert and made an extra $3,200. Getting an email during the trading day saved me quite a bit, making your service well worth it."

-- Steve Payne
"Pretty amazing…a one-week 13% gain"
"Just some praise here, but you seem pretty amazing at this. First you time the Natural Gas bottom perfectly, and then you time a 1-week 13% gain in TNA fund. Pretty incredible by normal human standards. Thanks for an excellent service."

-- Robin, Sweden
"This last gold trade…paid for this
subscription several times over"
"This last gold trade -- which I wouldn't have made on my own -- paid for this subscription several times over. I trade with you because I'm done getting greedy and not locking profits in - our exits have worked out just as well as the entrances.
I hope we get another dip so we can make more TNA trades too."

-- Mike Roberto, USA
So what is the "secret" to generating such impressive short-term gains – even from a famously conservative trading service?
Truth is…there is no secret.
You'll find that my service is very simple to follow – that's by design – and I'm very much aware of the fact that no one can catch every move in the markets.
So rather than looking to trade 10 to 50 stocks per month…I instead focus on a handful of sector ETFs and pull the trigger on trade alerts when I see a potentially lucrative – and low-risk – short-term setup.
One more thing – my TheGoldandOilGuy.com service is flexible.
I don't want to get too technical in this letter, but allow me to explain…
When the $HUI (the Gold Bugs Index) has a Trend Line Break Buy Signal, we look for low risk setups for gold funds to go LONG.
When the $HUI has a Trend Line Break Sell Signal, we look for low risk setups for SHORT positions.
The beauty of my service is that we can successfully play the market either way…
But my everyday trading activity is only one part of the story. I also need to tell you about…
The Power of the "Golden Rockets" –
50% to 150% Short-Term Moves!
Now that I've told you a little bit about how my strategy works…I need to tell you about a very powerful group of stocks that my service employs in special situations for some astounding short-term gains.
I'm talking about the potential for short-term moves of 50%...75%...even as much as 150%.
Now I realize that might sound a bit far-fetched at first glance.
But I can assure you…the potential is very real. Let me explain…
There's a collection of gold stocks that have a proven tendency to skyrocket in price during a major buy signal. I call these stocks "Golden Rockets" because of their explosive potential…and we take small positions in these powerful opportunities when the situation presents itself.
Like…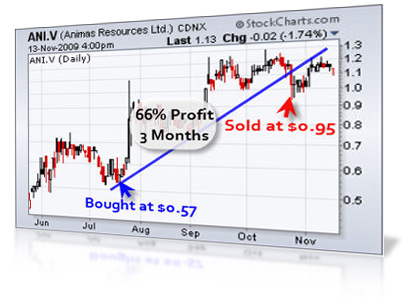 * Sacre-Coeur Minerals – Last summer, I saw an opportunity for short-term gains with this little-known exploration company, so I issued a "Golden Rocket Buy Signal." We exited half of our position for 52% profits just a few weeks later … and then we exited the balance of our position for 37% gains in September.
* Defense Solutions (DFSH.OB) was a defense, building supply, and oil play wrapped up into one last October – and in just under two months, this tiny stock delivered 24% returns for readers of TheGoldandOilGuy.com.
* Animas Resources (ANI.V) – another small exploration company – caught my eye back in October 2009. I issued a buy signal at $0.57 – and we sold at $0.95 just three months later for a solid, 66% 12-week return.
Now let me be clear – each time I issue a buy signal for a "Golden Rocket" trade, the opportunity is clearly spelled out…
And readers are told specifically that these trades are high risk speculative trades which are not suited for everyone. In fact, because of the risk involved…I typically provide no more than four "Golden Rockets" per year.
But for those traders who can afford to take a risk…the potential payouts are enormous.
Let's Get Started – Here's How You Can Begin Raking in Consistent, Short-Term Profits
Right Now
I want to make absolutely certain that the very moment you sign up for my TheGoldandOilGuy.com service, you're given every possible resource in order to be successful.
That's why I insist that – when you sign up for a no-risk trial subscription to my TheGoldAndOilGuy.com advisory service – you get everything you need in order to start making money right away.
So now that I've told you what my service is all about…let me tell you what you get the very minute you sign up…
FREE Report #1 – How to Profit from your TheGoldandOilGuy.com subscription – This report should be the very first thing you read. It explains everything – in plain English – you need to know in order to begin taking advantage of my regular trade recommendations. It's a five-minute "quick-start" guide that could be your springboard to tens of thousands of dollars in regular profits…


FREE Report #2 -- How to Trade Multiple Time Frames – This short guide is designed for traders looking for something beyond watching just one chart. In this report, you'll learn everything you need in order to watch multiple time frame charts -- both longer and shorter time frames -- to get an expert's feel for the market.


FREE Report #3 -- Understanding Market Movements – In this FREE Report, you'll receive a clear explanation of how the market moves and forms tops and bottoms. Understanding these patterns and support and resistance levels will allow you to buy low sell high, or sell high and buy low in bear markets.


FREE Report #4 – Gold & SP500 Psychology: They Bail, We Buy – This is a visual report on how the market shakes people out of trades just before rocketing in the direction you expected and had been positioned for. A must-read for serious traders.
In addition to your FREE Reports, your subscription to TheGoldandOilGuy.com also entitles you to…
Access to my bi-weekly Trading Reports on indexes, gold, oil, silver, natural gas…and more. My goal is to not only help you profit in the short-term…but to teach you how you can see exactly what I see on your very own…


15 to 30 Buy and Sell Signals per year – These are complete trade alerts written without ambiguity. You'll know exactly what my target is…and where to set your protective stop-loss.


Specific e-mail alerts with new recommendations – and critical updates on open positions. You'll never be left "twisting in the wind" – my service provides full coverage and complete updates on all open positions.


Unlimited e-mail support – I answer trading questions from my subscribers directly and promptly…something you're not likely to find from any other trading service on the planet!
"It is a mini course every time I read your work"
"I just want to thank you for all your e-mails and the way you analyze the charts and markets. You are very generous to inform us with all your updates. I like the way you analyze the charts in a different way that I normally do and I learn a lot from you. It is a mini course every time I read your work. You know your stuff! Thank you again."

Luc Larivee, Quebec, Canada

Don't Pay Thousands of Dollars for High-Risk,
Dangerous Trades – TheGoldAndOilGuy
Will Help You Safely Build Wealth…
for Less than a Buck a Day!
I think I've shown you the extraordinary potential that I will provide you as a subscriber to my TheGoldandOilGuy.com service.
The only thing left to address is that age-old question…
How much does it cost?
Truth be told…the profit potential alone from just a few months' worth of my trade recommendations and education would make it very easy to charge $3,000 to $5,000 per year.
In fact, I've seen more than a dozen trading services on the market selling at those prices – and, quite frankly, they don't have the proven history of success nor the low risk trading model that I bring to the table.
But I'm not even charging one-tenth of that amount!
Sign up today and you can have access to my trades– including my current list of open positions…my recent trading history…and all of the research, education and trading materials you need in order to understand the market - for less than $19 per month.
A six-month subscription is an absolute steal at just $174.
But you can save $49 when you sign up for a one-year subscription – at just $299.
And a two-year subscription – at only $449 – saves you $247…and gives you access to my service for the ridiculously low rate of just $18.71 per month.
Now, as I've shown you in this letter…the profits from just one trade could be enough to pay for a two-year subscription several times over.
And with a low, $174 six-month subscription option…there's really very little risk for you to try my service.
But let me go one step further…
I'll Assume 100% of the Risk for Your Subscription!
Even though my service has been proven to deliver extraordinary value year after year…
And even though I've included stories of success written by some of my subscribers…
And even though I'm offering access to my TheGoldandOilGuy.com service for as low as $18.71 per month…
I'd still like to do even more to convince you to start trading with me.
Sign up today and "test-drive" my service for a full 30 days. Take a look at all of my open recommendations…and carefully examine my trading history.
Feel free to read all of those special reports as well…
And if for any reason – during that first month of your subscription – you're not completely satisfied, simply let me know…and I'll refund every single penny of your subscription price.
I'm happy to offer a 100% money-back guarantee because I stand behind the success of my service, and…
I know just how much money can be made with my analysis and trades – without excessive risk – over the next few months.
So try my service and follow me as I navigate through the market – with a no-risk 100% refund guarantee, Why Not?
Your first successful trade could be only a few days away…
Sincerely,
Chris Vermeulen
Editor & Founder, TheGoldandOilGuy.com
Final Thoughts: In addition to the profits you'll enjoy with my service, you'll also become a more well-rounded investor. After just a few months, you'll learn everything about my strategy – including how to apply it to other investments like stocks, options, futures and currencies.
Just recently members closed out another double-digit winner…and I think the next few weeks offer even greater profit potential. Sign up for your risk-free subscription now to be sure you don't miss out!
My goal in life has always been to keep life simple, help others trade and have fun. And that is exactly what I do. If you have any questions please send me an email as I am here to help: Info@TheGoldandOilGuy.com