Metals and mining stocks continue to rock higher decoupling from our cycle analysis to create a strong impulse wave higher. This is what I feared last week and talked about happening and is the reason we had our protective stop for our short gold trade so we would keep that trade as a winner. Also, my gut was warning that this cycle break and emotional rally was trying to happen, and that is why we did not re-enter a short position in this sector.
The last two weeks this sector has been moving fairly sporadically and out of sync. Because of this, I have not covered it in much detail. Yesterday Obama announced an unexpected and expedited closed door meeting with the FED for today. I think this may have everyone worried and buying metals today.
Today's massive gap and rally actually have me very interested in a short trade for gold. With the chart forming a balance head and shoulders pattern, price trading at resistance, a news/fear based rally, along with a short-term cycle topping today, this could be a great low-risk trade and price may fade back down over the next 1-3 days.
See chart below or login to view: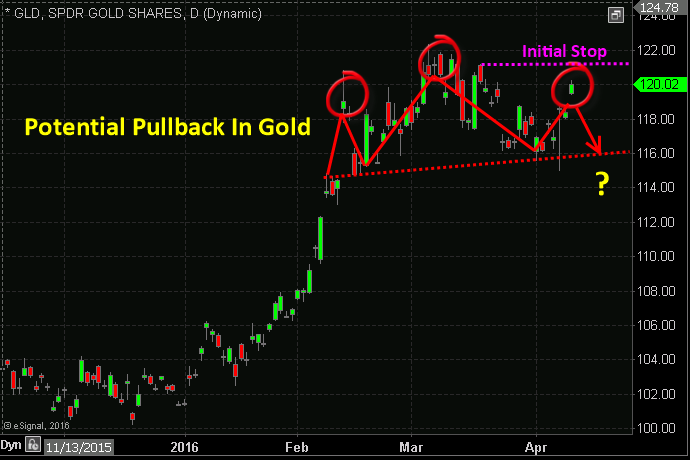 Couple things to touch on here:
First, I would like to mention and be clear that while I share some spike alert setups here and there with you, those trades are not the main focus of this newsletter and my trading. This year the way the markets have been gyrating spike trades have definitely filled the void for a lack of swing trades and long-term investment positions.
We will sooner than later start building some new long term positions and have swing trades. But it is difficult because so many markets are all trying to change directions and chopping around. I don't want us holding onto trades that will be all over the place for several weeks before moving in our favor. We don't need that stress. Rather, I'm trying to hold off as long as I can before getting positioned. Don't worry, they are coming!
Second, I know many of you love the price spikes as they provide a steady stream of winning trades each week. Friday morning was a quick $900 profit, and this morning in the video I shared with you the SPY price spike that took place in pre-market today. I traded it also for a quick day trade pocketing $400.00 in less than 1 hour to kick start the week.
You can see my trade today with my Interactive Brokers account. I waited to enter this trade until I felt the market shook out the short positions and got everyone bullish for the day. Then I sold short 1 the ES mini futures contract at 10:01am.
I have explained the market shakeout move before. How we see a price spike and the market, but the price will first move in the opposite direction to get everyone on the wrong side of the trade before it makes its move to reach the spike target.
Then 59 minutes later at 11:00am I bought back my short position and locked in 8 points ($50 per point x 8 = $400). Then another short position in the afternoon as the market started to breakdown again to fill the morning spike for another 11.5 points ($50 per point x $11.5 = $575).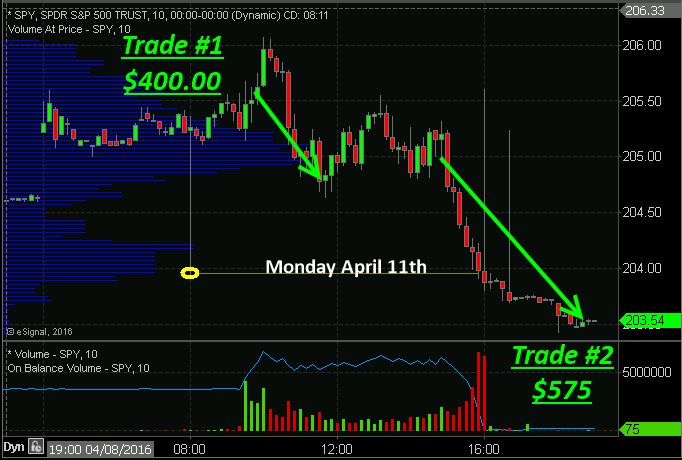 Just these three trades you were able to pocket $1,8670.00 which is more than enough to cover 4 years of me sharing analysis and trades with you… not too shabby!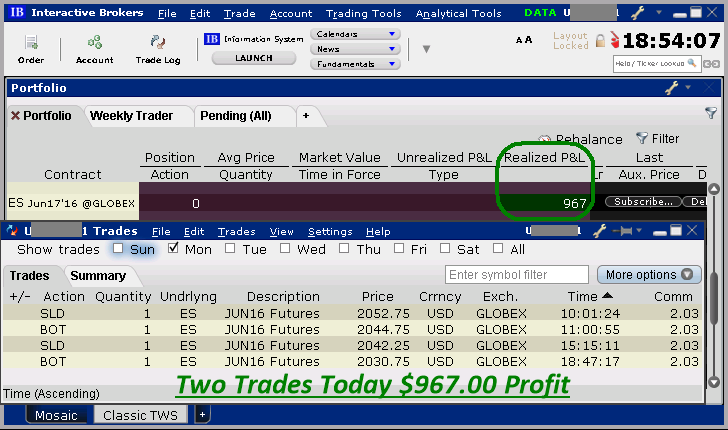 I will be creating a mini course/guide on how to trade Spike Alerts soon because there is an art to doing it well. Plus, I am working on a solution so those of you who want to keep rocking with the price spikes can do so without me bombarding every member with all this day trading/momentum analysis and updates.
I totally understand and feel for those who just want long term and swing trades and not intraday updates all the time. So, I'm working to satisfy both groups.
Chris Vermeulen
https://www.thegoldandoilguy.com/wp-content/uploads/2016/04/problem-solution-620x2851.gif
285
620
admin
http://www.thegoldandoilguy.com/wp-content/uploads/2014/11/tgaoglogo.png
admin
2016-04-11 15:37:19
2016-04-11 19:06:36
Massive Surge in Precious Metals & Spike Alert