This week we are seeing fear across the board from traders and investors as they dump their long positions is stocks and commodities. Just in the past two trading sessions alone we have seen extreme overbought conditions and extreme oversold conditions which generally mean another big move is brewing…
Fear (panic selling) has very distinct characteristics when looking at the intraday charts and we are seeing those price and volume patterns forming now. When waves of buying and panic selling start to take place back to back, I start to prepare for a trading setup which should form within a couple of trading sessions.
Keep in mind that fear is a much more powerful force in the market and once extreme levels are reached, we typically tend to see continued selling for 1-3 more days afterwards. This is the reason I tend to scale into oversold market conditions as I can potentially enter at lower prices within the next couple of sessions to build a position with a reduced cost basis.
SPY 10 Minute Chart of My Market Sentiment Readings
Panic selling, coupled with oversold NYSE market conditions and fearful options traders makes for an extreme reading in stock prices.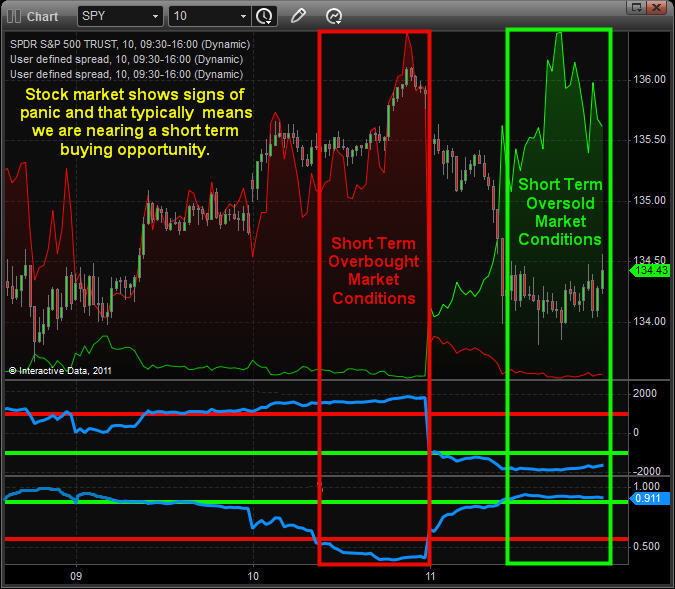 GLD 10 Minute Chart of My Market Sentiment Readings
Sentiment readings many times carry over into the precious metals sector and can be used as a gauge also for tightening stops, adding to long positions etc..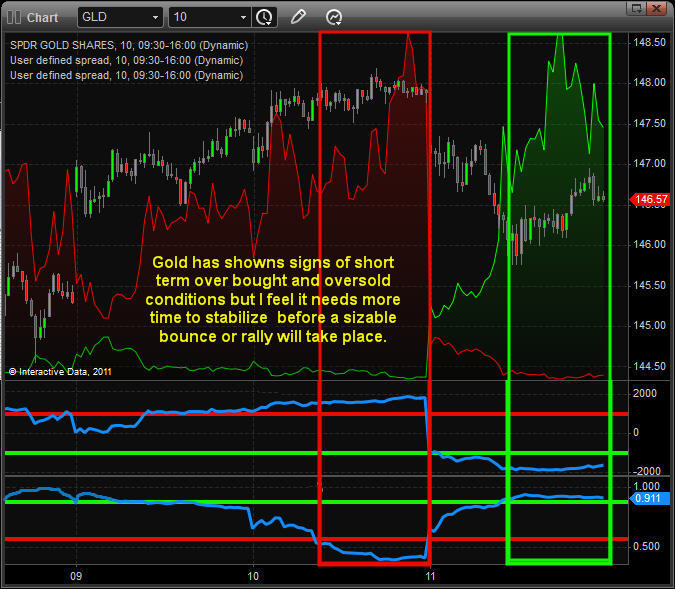 Mid-Week Market Trading Update:
In short, I feel the market is at a major tipping point along with the US Dollar. It is just a matter of time before we get another low risk setup and take a position for the next move in either direction.
Get My Weekly Reports Free Here: http://www.thegoldandoilguy.com/trade-money-emotions.php
Chris Vermeulen
http://www.thegoldandoilguy.com/wp-content/uploads/2014/11/tgaoglogo.png
0
0
admin
http://www.thegoldandoilguy.com/wp-content/uploads/2014/11/tgaoglogo.png
admin
2011-05-12 15:43:19
2014-03-10 06:18:15
Market Sentiment Reaching Extreme Levels for Gold & SP500