The dollar gained strength, after the FED raised rates by 25 basis points raised interest rates as expected from 1% to 1.25% last Wednesday, June 14h, 2017.  This, in turn, dragged gold prices sharply lower. Gold is locked in a seasonally-low time of the year.
Don't Ignore Technical Analysis If You Are Trading GOLD!
GLD continues to drop in its bearish pattern. The current Head and Shoulders pattern on GLD suggests a critical test of support at $117.00 A break below $116 could likely indicate a further decline to the $110 area.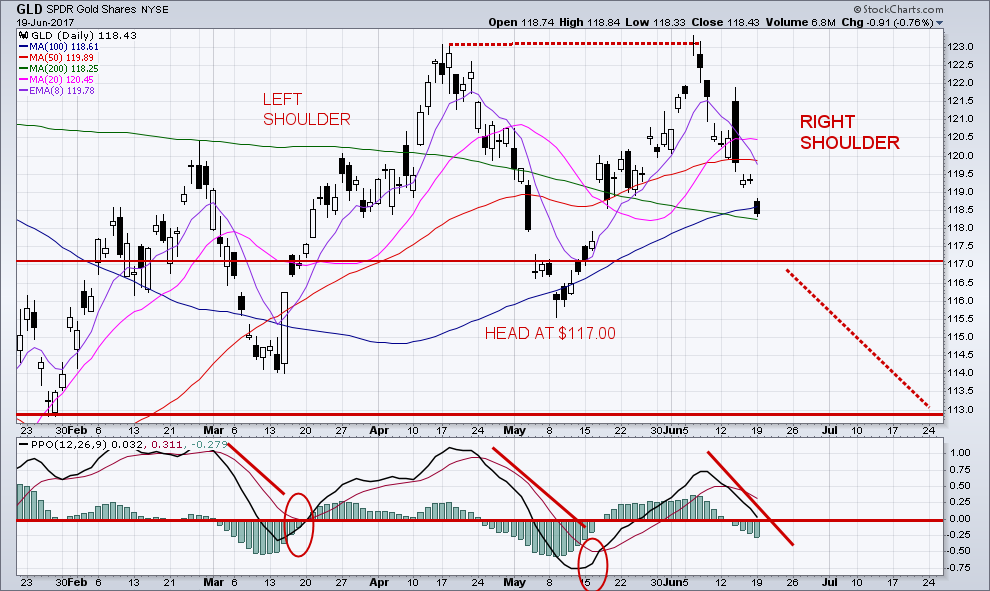 Dollar firms!
The dollar gained strength after the FED increased the policy rate by 25 basis points. The FED also announced its plan to begin trimming its balance sheet this year.
This move was broadly expected by the market, the dollar index fell initially after the outcome of the FED meeting. The index fell to a low of 96.31 on Wednesday, June 14th, 2017, but recovered sharply from that point.
Immediate support for the dollar index is in the 97-96.9 region, which could limit the downside in the near term. A break below 96.9 looks less probable. A from this support may see the dollar index moving higher to 97.50 levels. A further break above 97.50 can take it higher to 97.85 or 98. This potential rise in the dollar index may continue to keep gold prices under pressure. There is the possibility of gold prices falling further in the coming weeks ahead.
If the dollar index fails to break above 98, a pull-back move to 97.5 or 97 is possible once again. The index can remain range-bound between 96.45 and 98 for some more time. A breakout on either side of 96.45 or 98 will determine the next trend.
Targets above 98 are 98.6 and 99.2. On the other hand, 96 and 95 are the levels that can be targeted if the dollar index declines below 96.45.
Conclusion:
In short, we should continue to expect a stronger dollar and weaker gold for the next 2-4 weeks. When the time comes, plan to load up on metals and miners…
Follow my daily video forecast and trades at www.TheGoldAndOilGuy.com
Chris Vermeulen
https://www.thegoldandoilguy.com/wp-content/uploads/2016/08/goldimage.jpg
500
900
admin
http://www.thegoldandoilguy.com/wp-content/uploads/2014/11/tgaoglogo.png
admin
2017-06-20 11:49:09
2017-06-20 11:49:09
As FED Hikes Rates, Gold Falls!