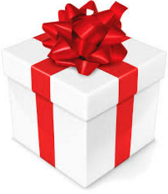 Here we are again, down to the wire for us guys (if you are a guy) to get our Christmas shopping done, with only couple days left before it's too late.
The question many of us are asking ourselves is what to get our family, friends, boss, partner etc. for the holiday season?
In a recent radio interview I did with Jim Goddard of HoweStreet.com we talked bout how there really was not anything really new and exciting on the technology side of things this year. Apple finally came out with the idea I had the first day I Apple TV box came on the market when I had to type in what I was searching for with that tiny little remote. My idea along with everyone else I'm sure was why not have a mic on the remote so we could just say what we wanted it to type… Now, YEARS later with this simple yet great feature has been added to the product.
I have new product and gift idea which costs a quarter of the price of the new Apple TV box, and will allow the entire family and friends to enjoy the benefits each and ever day!
This new product has patent and trademark pending filed for Lomiko Metals Inc. This small company is publicly traded and is in both the resource and technology industries (TSXV: LMR) (OTCQX: LMRMF) (FSE: DH8B) ("Lomiko") Lomiko.
Your Next Holiday Gift – The Spider Charger(TM)
Lomiko commenced a Kickstarter campaign to fund safety certification of the Spider Charger, an in-wall USB charging device that sets a new standard for energy efficiency and convenience for today's connected consumer.
The Spider Charger is able to safely charge up to six devices with USB connections. It works with any type of mobile phone, computer, camera or other electronic devices.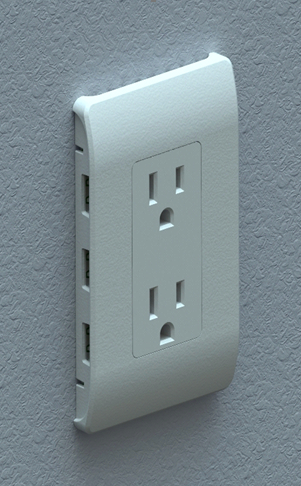 "The Spider Charger appeals to end users who value high energy efficiency, convenience, and sleek aesthetics. Our product features an easy-to-install designer-coordinated package that incorporates the latest advances in miniaturized power management technology. This puts the Spider Charger head and shoulders above bulky power bars that plug into conventional wall outlets." State A. Paul Gill, CEO of Lomiko Technologies.
How Does the Spider Charger Work?
The Spider Charger installs flush and out of sight in place of an existing conventional wall outlet. That means it's far more elegant and discreet than plug-in alternatives. But the Spider Charger's true advantage lies in the fact that the two conventional wall receptacles remain unobstructed when using the USB ports. Unsightly and crowded wall receptacles can be a thing of the past.
The Kickstarter campaign will raise funds to help cover the cost of obtaining safety and green standard certifications which will qualify the product for commercial use, specifically in new green buildings.
Lomiko's research has shown that a market niche exists for airport terminals, hospitals, coffee shops and office buildings for a product with multi-charging capability. I am putting one in my kitchen island for charging my families 3 iPads, 2 iPhones, and my daughters iPod.
The Spider Charger offers the most USB ports in a conventional outlet, in addition to its unique energy saving capabilities and sleek design.
This brand new product will be delivered within a couple months on a first come first served basis. I'm very excited about this product and will be putting one in my kitchen island, my office, and will be an extra upgrade/selling feature to tenant's in all my rental properties. While this may not be the most exciting product on the surface, it's something we need and use every day making this gift idea a great family and home present.
BUY YOUR SPIDER CHARGERS HERE: CLICK HERE
Buy, Invest and Help Promote the Spider Charger for Profits!
Several months ago heard about this product coming down the pipeline for Lomiko and it caught my attention because it's a simple concept, affordable, and everyone need it.
So I took part in their last private placement and own a large chunk of shares. Why? In anticipation of a couple things. First I like their resource side of the business and equity stakes they own in various tech companies. Also, because they have the Spider Charger product which will hit the market early next year.
Lomiko is still a tiny company and in the early stages of development. Their resource of Graphene deposits and mining are making great progress but as we all know the mining sector has been under pressure and permits/approvals take time.
I see great upside for Lomiko in the years to come and if you take a look at the chart below take not of these key points:
In 20112. 2013, and 2014 Lomiko has identified large Graphene deposits showing they have rich resources in the ground to build a strong business. This caused triggered strong buying in shares during those years. Several 300+% rallies.
More recently they have raised capital via Private Placement (selling new shares to investors in exchange for capital). While this is needed to move the company forward, it is seen as a negative for current shareholders in the short term.
Lomiko just received an updated Buy Recommendation from See ThruEquity with $0.19 Target Price is a potential 375% gain!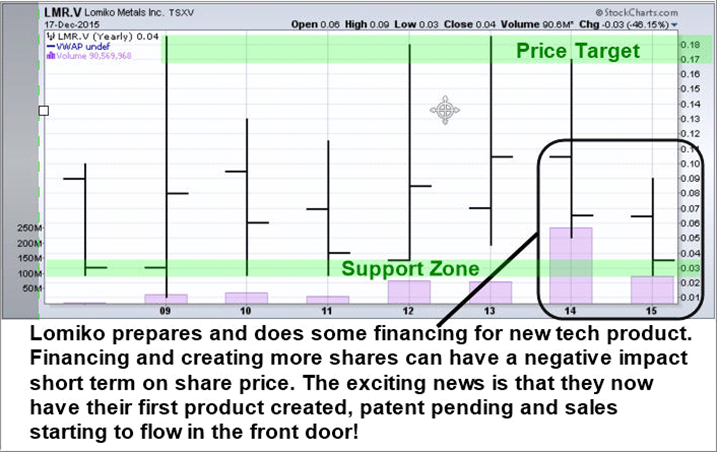 Holiday Gift and Investment Opportunity Conclusion:
In short, I have presented as simple and affordable holiday gift idea for your friends, partners, bosses, family members, office etc… Also, you have the potential to own shares and help get this product into homes, stores and businesses which in turn will provide more exposure for the product and eventually boost the share price to new highs.
With Lomiko taking great strides forward with their graphene resource business, their new tech product, and with share prices trading at major long-term support, and a new resource bull market set to start in 2016, this little company is a hidden gem.
Get more analysis and trade alerts at www.TheGoldAndOilGuy.com
Chris Vermeulen
Disclosure of Interest and Advisory Cautions: Nothing in this report should be construed as a solicitation to buy or sell any securities mentioned. Technical Traders Ltd., its owners and the author of this report are not registered broker-dealers or financial advisors. Before investing in any securities, you should consult with your financial advisor and a registered broker-dealer. Never make an investment based solely on what you read in an online or printed report, including this report, especially if the investment involves a small, thinly-traded company that isn't well known. Technical Traders Ltd. and the author of this report has been paid by Lomiko Metals Inc. In addition, the author owns shares of Lomiko Metals Inc. and would also benefit from volume and price appreciation of its stock. The information provided here within should not be construed as a financial analysis but rather as an advertisement. The author's views and opinions regarding the companies featured in reports are his own views and are based on information that he has researched independently and has received, which the author assumes to be reliable. Technical Traders Ltd. and the author of this report do not guarantee the accuracy, completeness, or usefulness of any content of this report, nor its fitness for any particular purpose. Lastly, the author does not guarantee that the company mentioned in the reports will perform as expected.
https://www.thegoldandoilguy.com/wp-content/uploads/2015/12/lowgift.png
194
168
admin
http://www.thegoldandoilguy.com/wp-content/uploads/2014/11/tgaoglogo.png
admin
2015-12-21 17:48:16
2015-12-21 18:18:19
A Holiday Gift and Investment Opportunity